Keeping your car in optimal condition increases its value on the resale market when it comes time for you to trade up. If you've recently bought a car, try these five tips to maximize its eventual trade-in and resale value.
Follow the Manufacturer's Recommended Maintenance Schedule
The vehicle's new owner will want to know that the car has been properly cared for over the years. Not only should you have the maintenance and repairs the car needs promptly, you should also keep good records that you can provide along with the title when you resell the car.
Watch Your Mileage
High mileage is one of the biggest factors that negatively impacts a car's resale rate. If you want to keep your new car for five years, try to keep your annual mileage well below 15,000 per year to optimize the resale price.
Get it Clean
The cleaner your vehicle, the higher a price it will command for resale. Whether you put in the elbow grease and wash and wax the car yourself or opt to pay for a professional detailing service, it should be spotless inside and out before you put it on the market.
Highlight the Positives
Think about what you'd want from a pre-owned vehicle, and try to live up to those tenets with your own car. For example, care for it in such a way that you can eventually advertise that the vehicle has never been in an accident, hasn't been smoked in, and has an otherwise clean history.
Make Cosmetic Improvements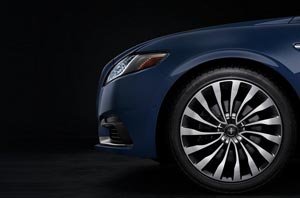 To boost your resale price, have dents, dings, and cracked or chipped windshields fixed. Invest in new lights, tires, and floor mats. Although you'll need to pay for these items, you'll likely see a sizeable increase in your car's resale value that will more than make up the difference.
If you're in the market for a new car, visit Grapevine Lincoln today. Our friendly sales staff will be happy to help you find the right vehicle for your needs.