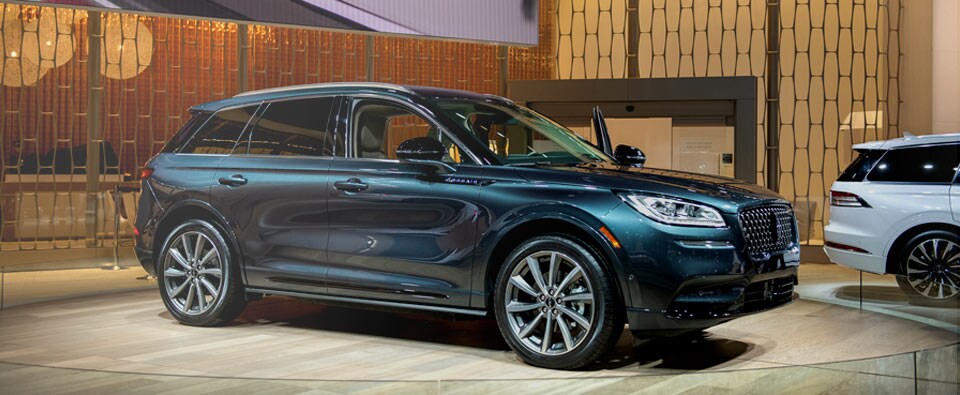 The 2021 Corsair Grand Touring is Lincoln's second plug-in hybrid crossover and is currently the smallest hybrid vehicle offered in Lincoln's lineup. This plug-in hybrid crossover will hit the market in the summer of 2020 and definitely worth the look if you are interested in an electric vehicle that is efficient and eco-friendly.
2021 Lincoln Corsair Grand Touring Features
The Corsair Grand Touring offers convenient all-wheel drive only. The Corsair Grand Touring may be one of the most luxurious Corsair options available. It offers leather upholstery and 20-inch wheels, among other features such as driver-assistance technology and the phone key app. Remote start and locking makes the 2021 Lincoln Corsair Grand Touring extremely convenient whether you are using it for errands or your everyday commute. Nose-cancelling technology keeps the cabin quiet, and second-row seats allow for passenger comfort and added storage.
2021 Lincoln Corsair Grand Touring Performance
The 2021 Lincoln Corsair Grand Touring offers maximize fuel efficiency without sacrificing performance. The system will offer 266 horsepower, and the PowerSplit feature makes the hybrid function better than ever. There are numerous drive modes to choose from to make the vehicle suitable for any voyage: Normal, Conserve, Slippery, Deep Conditions, Excite, Preserve EV, and Pure EV. The preserve mode can save battery for a later type. The pure mode keeps the vehicle in electric mode as much as it possibly can. These different modes allow drivers to adapt the 2021 Lincoln Corsair Grand Touring to their specific driving style and can make it easier to handle the 2021 Lincoln Corsair even in challenging weather conditions such as snow or sand. The deep conditions maximize the effectiveness of the pedal system.
Lincoln Corsair Grand Touring Safety Features
The Lincoln Co-Pilot system comes standard in the 2021 Lincoln Corsair Grand Touring, similar to other Lincoln models. This includes a pre-collision assistant as well as automatic emergency braking. Automatic high beams, a rearview camera, traffic jam assistant, adaptive cruise control, active park assist and reverse automatic emergency braking can be added with upgraded trim packages. Collectively, the safety features make the 2021 Lincoln Corsair Grand Touring a top choice for a family vehicle of choice for the daily commute.