LINCOLN Dealer Researches the New MKZ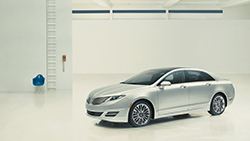 The 2015 Lincoln MKZ is back on the market this year with a few minor adjustments. A couple notable optional features have now become standard on all models, but overall, the MKZ is unchanged. Fitted with an array of standard features, the latest model is a top choice for modern buyers who want to take advantage of an assortment of amenities. There's also a hybrid model available that delivers top-notch fuel economy, benefiting buyers who want to save on fuel. Check out our 2015 Lincoln MKZ review below to find out more info about both models and their first-class components.
Two different engines are available on the 2015 Lincoln MKZ in Grapevine: a 2.0L four-cylinder and 3.7L V6. The former, which is turbocharged, generates 240 horsepower and 270 lb.-ft. of torque, while the latter produces 300 horsepower and 277 lb.-ft. of torque. Both engines are supported by a six-speed automatic transmission, and are available on front-wheel-drive and all-wheel-drive models. Each variant helps produce good fuel economy, but if you want to receive top-of-the-line efficiency, the Lincoln MKZ Hybrid is a great choice. It features a 2.0L four-cylinder engine paired with an electric motor that delivers 108 horsepower. Altogether, the system works to exert 38 mpg combined, 37 city and 38 highway, which are excellent numbers.
Aside from its engine options, the 2015 Lincoln MKZ in Grapevine sports a variety of features. It's stocked with several different technological components, including an 11-speaker sound system, a rearview camera, rear parking sensors, satellite radio and navigation. A wide range of safety features are also available in order to increase in-car safety, such as lane-keep assist, frontal-collision warning, blind-spot monitoring and rear-cross traffic alert. Additionally, a variety of packages are offered on the MKZ to improve the driving experience.
Want to know more about the luxurious MKZ? Keep reading our 2015 Lincoln MKZ review. You'll find additional info about the model below and a variety of specs.