Tire Service Near Me for Luxury Cars
If you want your vehicle to run at its safest, it's important to take care of your car's tires. Regular inspection ensures that your tires are in the best condition. Plus, inspection is the easiest way to know whether it's time to have your tires replaced. By getting the tires on your new Lincoln Navigator or MKT regularly repaired and replaced, you will be able to increase the longevity of your car.
For top-notch tire service near Dallas, schedule an appointment online with the maintenance team at Grapevine Lincoln.
Do I Need New Tires?
Without regular service, luxury car tires may wear out sooner than they should or even blowout depending on their condition. Routine inspections, along with regularly scheduled tire rotations, balancing and alignment, will keep them working properly.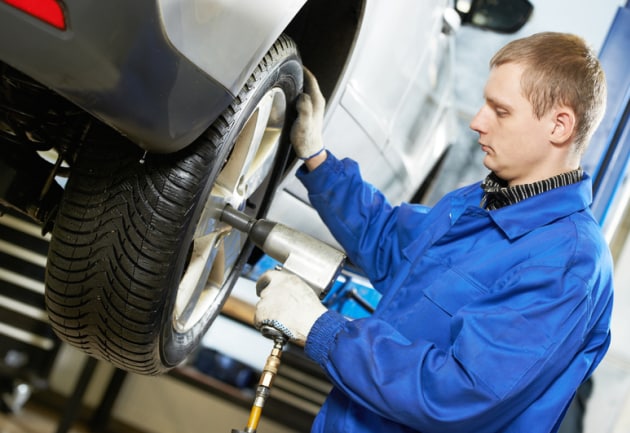 On average, Lincoln tires need to be replaced around every five years, and should not be used for more than 10. Without regular maintenance, you may find that you are replacing your tires much more often than that.
To even out the wear on your tires, they should be rotated around every 6,000 to 8,000 miles, or six to eight months. There is a simple test to check the wear of your tires: the Penny Test. Place a penny with Abe Lincoln's head down into the tread of your tires; if the top of his head is uncovered, it may be time for a rotation or even a replacement.
At our tire shop in Grapevine, we also recommend getting a wheel balance and alignment check every time you have your tires rotated. In addition, some signs that it might be time to invest in new luxury car tires include:
Vibration while driving at high speeds
Drifting from side to side 
Off-center steering wheel 
Cuts or marks in the sidewalls of your tires
Another important aspect of tire maintenance is regularly checking up on the air pressure of your tires. In the owner's manual there are details about the ideal tire pressure for Lincoln tires. When inflated to the optimal level, properly inflated tires may improve fuel economy and also ensure even tread wear. When air pressure is low, an orange exclamation mark will illuminate on your dashboard, but it should be checked even when the signal is not on.
Your Local Luxury Car Tire Shop in Grapevine
Your Lincoln vehicle will be in great hands at our service center in the Dallas area. Our maintenance experts are equipped with the best tools sand technology to ensure that your tires can be serviced efficiently and at the highest quality. Visit soon if you believe that you are in need of new Lincoln tires or professional tire maintenance.