Through our Lincoln dealership auto service center, you can receive high-quality service for your vehicle that addresses all of its needs now and over the years. Our goal is to help you to keep repair issues at bay by providing you with exceptional maintenance work that is customized specifically to your vehicle's needs. One of the maintenance services that all Lincoln models require is transmission service. The transmission is a hardworking and essential system that performs the task of power and torque moderation. It works in conjunction with your engine to deliver an amazing performance on the road. As you might imagine, this system endures extreme wear and tear from friction and heat. Maintenance work is required to combat the impact of wear and tear. For any transmission service needs that your Lincoln has, our certified technicians are available to help.
What Type of Work Is Completed Through Transmission Maintenance?
It is easy to assume that a transmission is a single component, but it is an elaborate system that is comprised of a transmission filter, lubricating fluid, cooler lines, a transmission pan, a torque converter and a few other parts. As the engine runs and the transmission does its part to move the vehicle, considerable wear and tear can occur through intense heat and friction. The important job of the lubricant is to mitigate the impact of friction and heat. The filter also performs the essential job of keeping as much dirt and other particles out of the lubricant. Through their functions, however, the filter and transmission fluid will get dirty and will eventually lose their ability to be effective. Therefore, the most common type of regular maintenance on a transmission involves replacing the filter and fluid. These tasks are completed through a fluid change or a fluid flush service. Typically, automakers recommend this maintenance work to be completed every 30,000 to 45,000 miles, which usually equates to every two to three years. Your owner's manual will provide you with model-specific recommendations.
Should I Schedule an Appointment for a Flush or a Fluid Change?

Proper maintenance needs for your Lincoln's transmission can be confusing to determine at times. In the case of a fluid flush and a fluid change, these two services are very similar. Consider that they both involve the replacement of a filter and the replacement of transmission fluid in the system's pan. This is where the fluid change service ends. However, some dirty fluid is also in the cooler lines and in the transmission torque converter. A fluid flush goes a step further and also replaces the fluid in these components. To determine which service is required in your Lincoln, an inspection of your vehicle's transmission fluid by one of our technicians could be helpful.
What Are Signs of Lincoln Transmission Damage?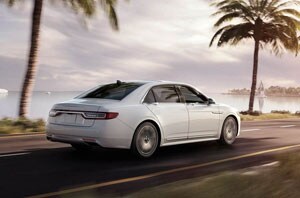 With regular transmission service, your Lincoln's repair needs may be diminished. Nonetheless, you may have to deal with some repair issues from time to time. A few of the more common signs that you may notice include rough movement when gears are changing, an intense burning smell, an illuminated indicator light for engine service and transmission fluid leaking. Our Lincoln auto service team is ready to help you take great care of your vehicle. Contact our office to set up an appointment soon.